We hope you were able to attend the dedication of the Martin Berry House on October 13, 2018. The Pequannock Township Historical Society hosted this occasion to commemorate the purchase and preservation of the house by the township, and to give the public and our supporters another opportunity to see — and learn the history of — the historic Martin Berry House. It was our way of thanking the Morris County Freeholders, members of the Morris County Historic Preservation Trust, our local Town Council, and others who made this acquisition possible.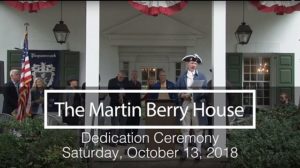 Built in 1720 by Dutch settlers, and listed on the national and state Register of Historic Places, the Martin Berry House is among the oldest houses in NJ, and one of the very few that have survived substantially unaltered since its construction.
We were fortunate to have Society member Stephen Connolly and his friend Jordan Galiano cover the event and produce an awesome video and many photos. You can view the video right here, and many of the photos are on our Facebook page.
---
Background

The Martin Berry House, built in 1720, was purchased in 1951 by Charles and Eleanor Bogert, who restored and maintained the house with the intention of eventually selling it to Pequannock Township.
The Bogerts populated the two-story Dutch colonial with period antiques and, for many years, invited local schoolchildren and others to visit the house for hands-on education in colonial life. Charles Bogert passed in the late 1980s, leaving his wife — now 99 — to continue their mission.
The Bogerts' dream was finally realized in 2017 when the township purchased the house using grants and other funds. The house is currently not open to the public, although private tours are available. Once upgraded to meet modern codes, the house will be open to the public as a 'living museum', community meeting place, and historic education center.